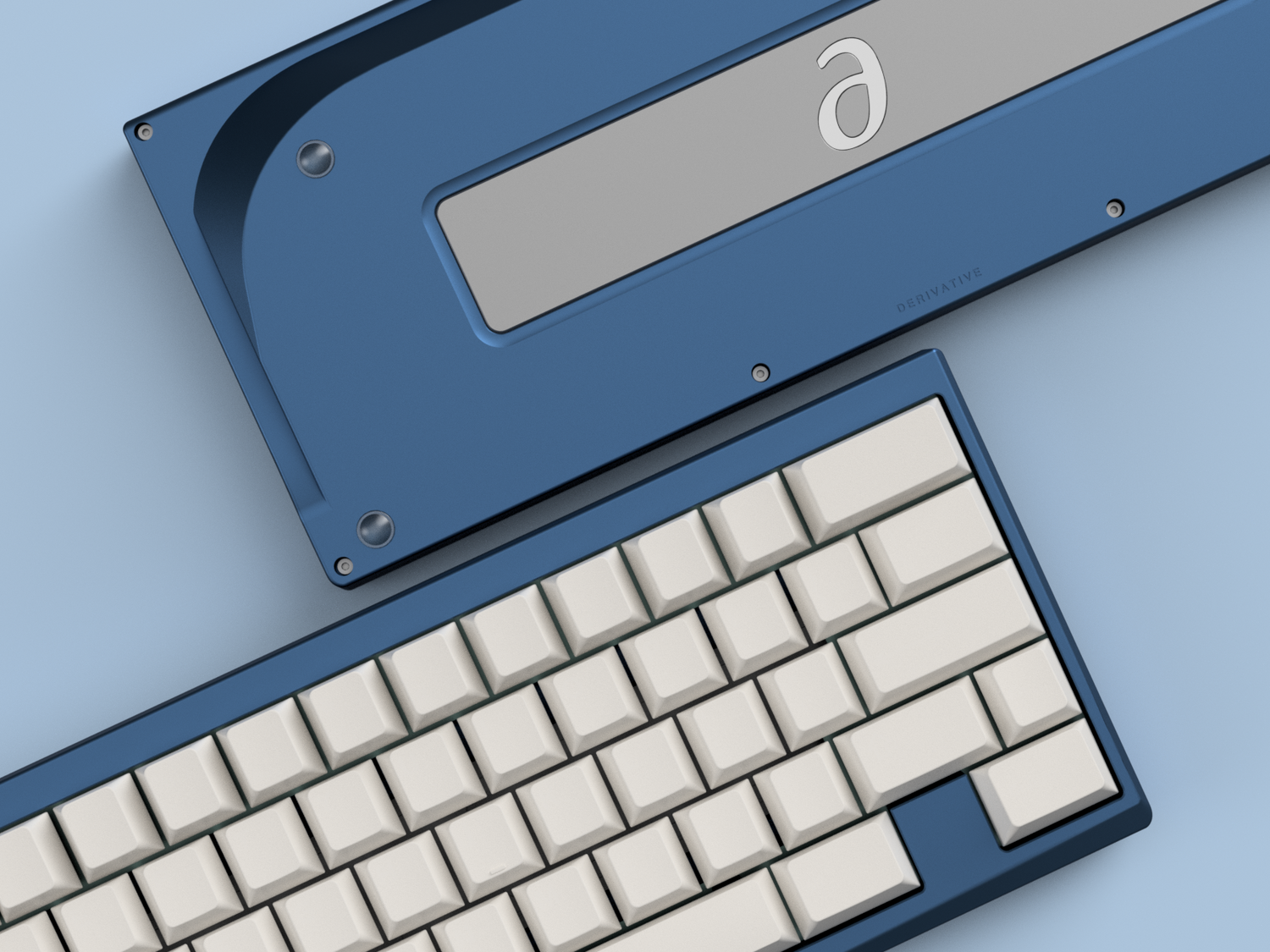 Change is the only constant
Derivative R0 originally ran in December of 2021 as an exclusive in-stock sale, featuring a new curved front-lip design and stunning 'dirty champagne' anodization. It's since garnered enough interest to warrant an official re-release featuring several key design refinements. This R1 revision includes a newly-proportioned weight design, reworked corner transitions, an interior facelift, and a slew of new color options.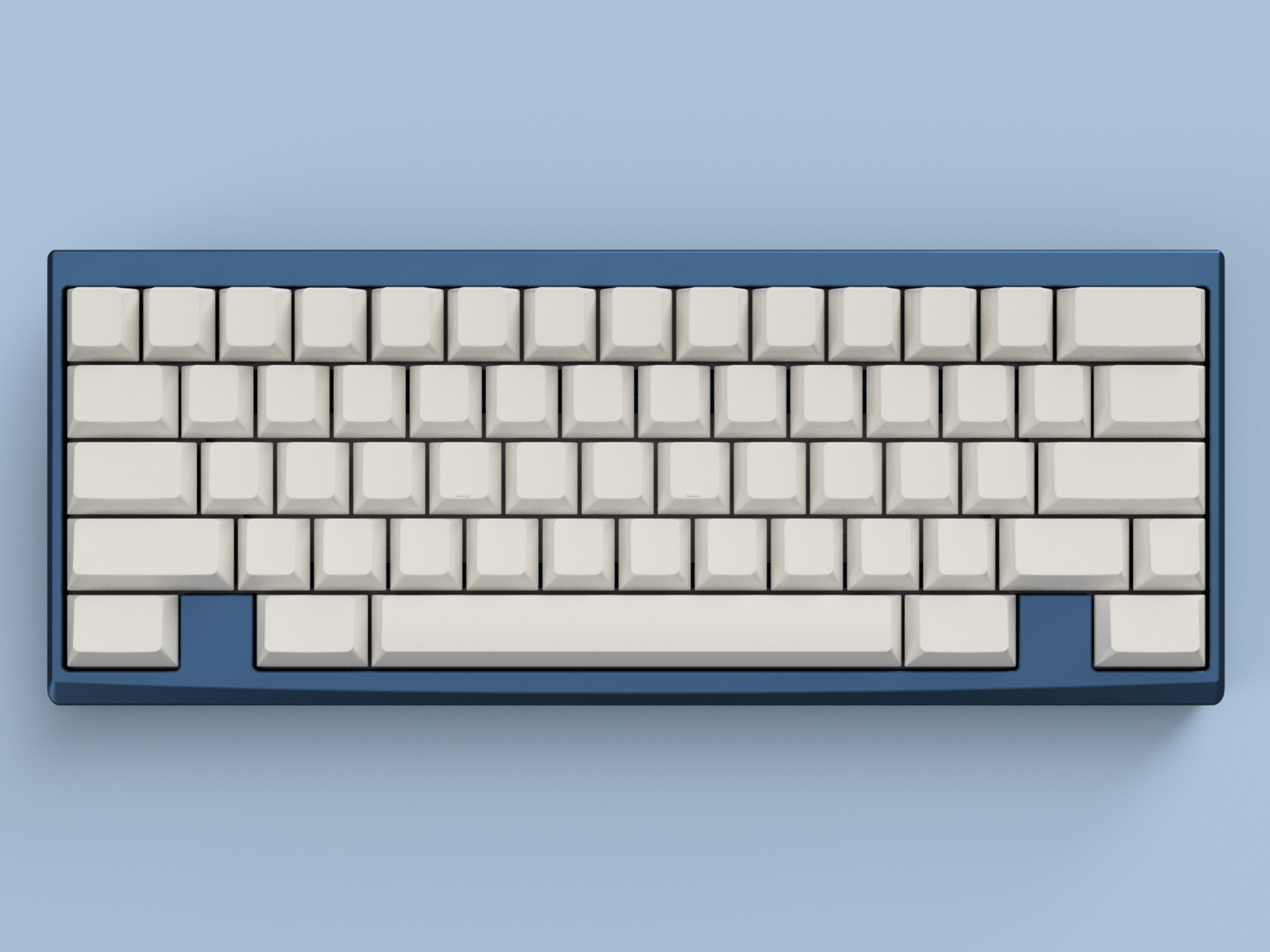 Designed to be differentiated
Derivative was designed to be a graceful balance between classic keyboard aesthetics and unique visual cues. Novel elements come together to create a distinct identity. A fresh & multi-faceted side profile, a subtle yet always-visible convex front-lip, and an inset two-piece weight with contrasting finishes are core concepts to the exterior design.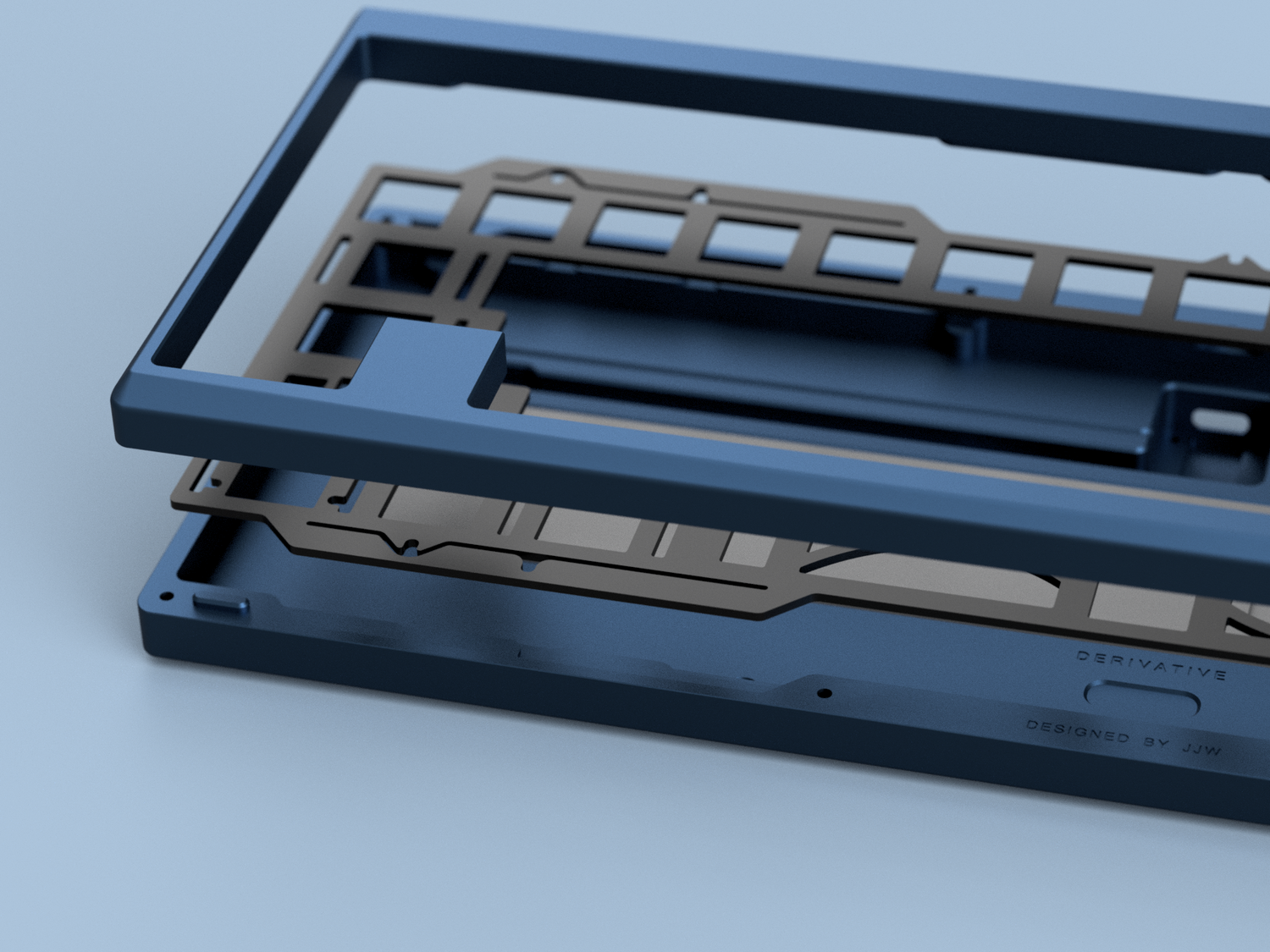 Function, and form
While not unlimited, Derivative provides excellent versatility by offering three mounting methods with distinct tactile and acoustic properties: o-ring gasket mount, top mount, and relief mount. In addition, several options for o-ring hardness allow for an even finer level of tuning towards your preferred typing feel and sound.
Sale Details

Kit includes keyboard, full aluminum plate, PCB + Daughterboard, carrying case & microfiber cloth, 50A O-ring, assembly hardware, misc. documentation.
Group buy format, opening March 25th 9AM PT - April 10th.
$439 USD (WK/WKL), $449 USD (HHKB).
Limited to

250

units available from jjwkb.com,

450

units available at other regional vendors. Note - listed numbers are limits, not MOQ.
Estimated shipping timeframe of Q1 2024 - Q2 2024.

Add-ons & Options

Colors: Mercury (Silver), Clay (Clay), Amphibian (Green), Velvet (Red), Coast (Blue)
Layouts: Full / WKL / HHKB
Plate Options: Full / Half Aluminum (anodized black), Full / Half Polycarbonate (smoke), Full Polypropylene (black).
Extra PCBs + Daughterboards
O-ring options (30A, 50A, 70A)

Technical Details

Layout: 60% (Full / WKL / HHKB). PCB supports split left shift, split right shift, split backspace, ISO enter. Plates only support ANSI enter/shift.
Typing angle: 6.5 degrees
PCB: Custom Zed60 by Mechlovin'
Case materials: Aluminum 6063, Stainless Steel 304
Weight: ~1200g / 2.70 lbs built
Front Height: varies (22.4mm EKH)
Mount: O-ring gasket mount / Top mount / Relief top mount

Regional Vendors

Pricing, time of sale, and sale methods may vary. Please refer to respective vendors for details.